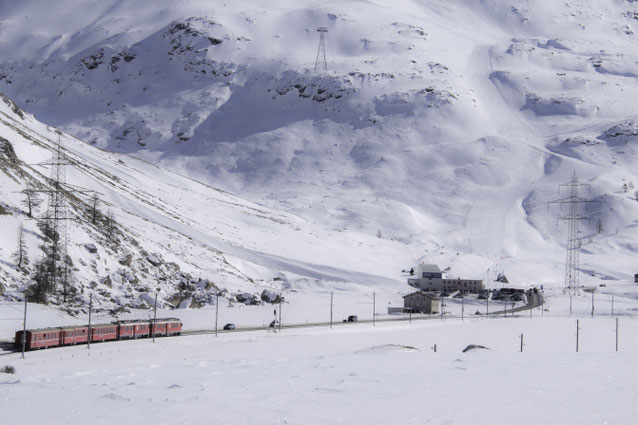 ---
We don't know why but the wonder of mountains covered with snow always fascinates us... maybe it's because it reminds us of Christmas or maybe it's because the white and soft snow recalls purity and candor! This is way we decided to spend a weekend among white landscapes between Italy and Switzerland on the Little Red Train of Bernina and we are about to share with you some useful information. 
---
Bernina Express or Regional train
---
When we talk about the "Little Red Train of Bernina" we mean a train of the Rhaetian Railway ( Link ), that runs in the Canton Grisons, whose amazing peculiarity is that it links Tirano ( Italy ) to St. Moritz ( Switzerland ) climbing the Alps up to over 2000 meters and offering amazing views of the surroundings being well integrated in the natural environment.  As a matter of fact, the Little Red Train of Bernina is among the list of UNESCO sites.
Actually there are two different trains that run from Tirano to St. Moritz:
Regional Train
Panoramic Train ( Bernina Express )
Regional Train ( best option )
It is a normal regional train with First Class and Second Class carriages provided with opening windows that will let you take amazing pictures. There are 8 mandatory stops and 8 stops upon request  and the train takes 2h15 to complete the route. Tickets ( 64 CHF round trip per adult, 32 CHF round trip under 16yo, 0 CHF round trip under 6yo ) can be bought online ( Link ) or directly at the station. Booking is not required because there is a train per hour leaving from Tirano and you can hop on and off the train whenever you want during the day. Some trains are provided with panoramic carriages where you can sit paying 5 CHF more, but we don't suggest it because you can't open the windows.
Panoramic Train - Bernina Express
The panoramic train offers more comfort but it's less convenient because you must book way in advance paying 10 ( Winter ) /14 ( Summer ) CHF more per person. Despite being really huge, windows can't be opened preventing you from taking amazing pictures and you can't hop off the train unless you take a regional one to continue the route.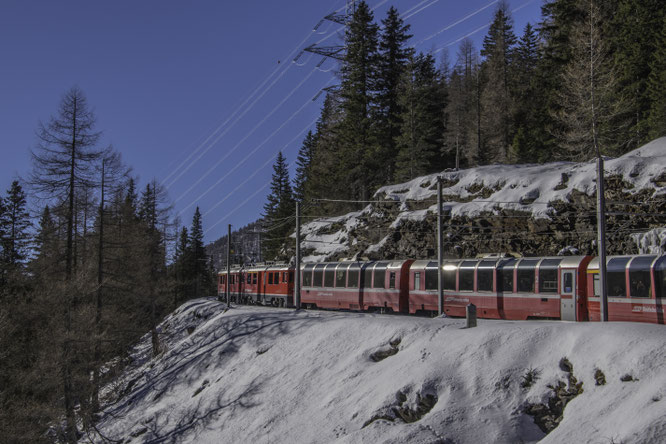 ---
The route and other useful info
---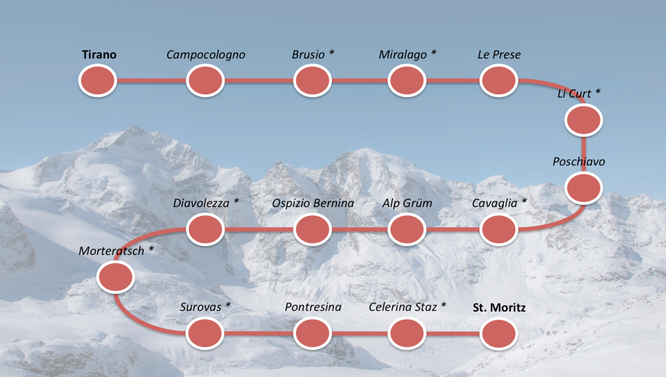 In the image above you can see the route of the regional train from Tirano to St. Moritz. The stops marked wit the asterisk are the one that should be booked on the train ( there is a green button on every carriage ), while the others are mandatory. As the train approaches each stop, you will be warned by a multilingual announcement ... so don't be worried by the idea of missing your stop and enjoy the view.
The journey to St. Moritz lasts 2h15, so, if you take a train early in the morning ( 9 am ) you can do some activities along the road. Keep in mind that the train stops in each station no longer than a minute so if you want to take good pictures, if you want to hike or ski you must get off the train and wait the next one in order to continue your trip. It's fundamental to know the train hours ... you can find them in Tirano B&Bs, in Tirano RhB station or on this very useful website: www.trenino-rosso-bernina.it/orari.html
It would be better to split the visit in 2 days spending one night in Switzerland before coming back to Tirano, but, if you just one day you we suggest this stops during winter time:
Diavolezza : where you can take the cable to reach 3000 meters in front of its majesty Piz Bernina ( 4049 mt ).
Morteratsch : where you can have an easy hike to the glacier.
Pontresina : where you can discover the Roseg Valley.
Finally, keep in mind that taking the regional train you can decide to stop before St. Moritz spending less than what we told you before. Here you can find a useful Italian page in which you can find the costs for each route: www.trenino-rosso-bernina.it/costi.html.
---
Euro or CHF? Documents ?
---
Taking the Little Red Train of Bernina you move from Italy to Switzerland and viceversa ... so you need a valid passport or ID card. At Tirano railway station there is the Swiss custom. 

You can either pay with Euros, with CHF or credit/debit cards. 
Have you ever been on this "Little Red Train"? Do you agree with the information we gave? Leave us a comment and follow us if you are interested in this topic.
---
Do you want to know more?
---
---
---