---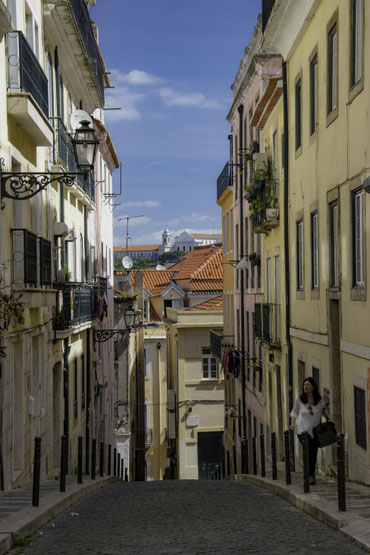 After having spoken about the charm of Chiado, it's time to speak about the Bairro Alto, a neighborhood known for its nightlife opportunities, that you can enjoy also during daylight together with the Príncipe Real area.
---
The alleys of Bairro Alto and the Miradouro de São Pedro Alcântara
---
Starting from Convento do Carmo, this time direct yourself towards Rua da Nova Trinidade where the colors of blooming jacarandas are perfectly linked to the ones of the Teatro da Trinidade facade. On your right the Calçada do Duque links the Bairro Alto to the Baixa through a long stairway where you can find many restaurants with their open-air tables; on your left you can find the small alleys of Bairro Alto, packed with pubs, clubs and small restaurants. In front of you, Largo Trinidade Coelho with the Igreja São Roque, that is as internally beautiful as externally modest.
---
---
Continue to Rua São Pedro de Alcântara where, after the Elevador da Glórìa, there is the Miradouro de São Pedro de Alcântara from where you can enjoy an amazing view over the city. The intense blue of Tagus River is the perfect background for the Baixa neighborhood and the ones on the Eastern Hill:  Alfama, Castelo and Graça. Lisbon main monuments are in front of you: Rossio with its fountains, the Sè Cathedral at the entrance of Alfama, the Castelo de São Jorge dominating the hill. 
You can relax a bit in the miradouro's gardens where you can also have a drink or a small meal at the kiosk.
---
The quiet of Príncipe Real
---
Getting over the Miradouro de São Pedro del Alcântara, you reach Rua Dom Pedro V from where the residential neighborhood of Príncipe Real begins with its colors and its peace. Enjoy the nice Jardim do Príncipe Real, relax yourself in the shade of the centennial cedar and watch how day-by-day life flows placid here in this place, with old men playing cards having the Ponte 25 de Abril as beautiful background.
Nor far from here, in Rua da Escola Politécnica,  the  Museum of Natural History and its Botanic Garden ( unfortunately it was closed when we visited the city ) contribute to make this Lisbon area very pleasant and livable.
After a bit of relax, turn into Rua do Século and walk towards Rua da Rosa to go back in the heat of Bairro Alto among nice alleys and restaurants that will properly welcome you after the sunset. 
---
---
Where to eat ?
---
In the Bairro Alto there ara so any places in which you can spend your dinner time, from the tiny small traditional restaurant, to more modern and international places, from Irish pubs to clubs where you can drink all night long.
Here you can find the restaurants we tried.
Decadente ( Link ) : located in Rua de São Pedro del Alcântara 81, it's a nice, industrial style, young place provided with open-air tables. We tried it following Lonely Planet's suggestions and it proved to be a nice choice. During the weekend you can have brunch, but we decided to try Portuguese cucine and we took a delicate but tasty rice with fish. It is a good value for money ( 10€ / 15€ for main courses).
Oficina do Duque ( Link ) : located in Calçada do Duque 43, it is our host's restaurant and we decided to try it on our first night in Lisbon due to the enthusiastic TripAdvisor reviews. We strongly suggest this restaurant that tries to revisit Portuguese cusine. We enjoy a tasty grilled octopus, a fresh cod fish salad and a delicious goat cheese... everything very tasty. Once again a good value for money ( around € 40 a couple ).
Taberna da Saudade ( Link ) : located in Travessa da Queimada 26A, it's the typical traditional Portuguese restaurant that serves tapas and traditional but tasty dishes. The place is small, colorful and welcoming with Fado music in background. We enjoyed a glass of wine, 2 entrees, 1 fish tapas, 1 soup , 1 chocolate cake, pears with calvados for a total of  52.
We also tried to eat at Bairro do Avillez ( Link ) in Rua Nova da Trinidade 18, but unfortunately without reservation it's almost impossible. Try it and let us know if our expectations are correct. 
---
Itinerary
---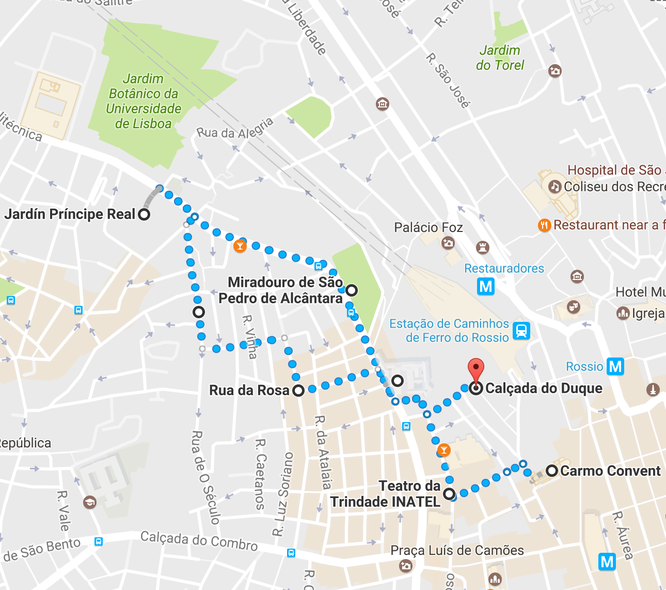 We hope you enjoyed this post and you found it useful... if you have more questions or if you want to add more... leave a comment!
---
fede & marco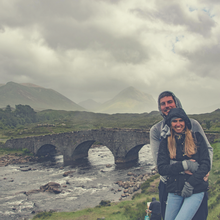 " EVERY LONG JOURNEY BEGINS WITH A SINGLE STEP "
---
---
facebook
---
instagram
---
lisbon
---
TRAVel with us
---