---
---
After the useful information for a weekend in Lisbon, now we want to tell you something about neighborhoods of this wonderful city trying to highlight their singularities which contribute to make this city so fascinating.
Let's start talking about the neighborhood called Chiado.  
---
Convento do Carmo
---
Chiado is likely the most noble neighborhood of Lisbon both for its shopping streets, its numerous cafes and restaurants and for a cultural importance  - its name was the nickname of the poet Antonio Ribeiro who lived here during XVI century, here Fernando Pessoa, one of the most important Portuguese poet and writer, was born and finally in this neighborhood there is one of the most beautiful Existing Romanesque Gothic ruins: Convento do Carmo.
Our itinerary starts right here, from Convento do Carmo ( Link ). 
The convent, placed in Largo do Carmo, not so far from Chiado's heart, was the main Lisbon church when, in 1755, a strong earthquake caused the collapse of the aisles leaving intact only the "skeleton" of the church which is now one of the most fascinating archeological site where different finds related to city history are exposed.
A paradise for photo lovers, very suggestive, with sun beams filtrating through windows and arches creating shadows and light effects. 
You'll love it!
Useful info on Convento do Carmo:
Opening hours: 10-18 (May - September); 10 - 17 (October - April). Closed on Sunday.
Tickets: € 3,50 per adult. Free for kids. Lisboa card holders have some discounts.
From Rossio you have the best view of the entire structure.
---
Rua do Carmo, Rua Garrett e la bella vita
---
From Convento do Carmo you can use the 'Elevador de Santa Justa' to reach Rua do Carmo eand walk along this shopping street which links Baixa to Chiado. Turn right on Rua Garrett to live a Lisbon made of cafes and historical libraries such as Livraria Bertrand in Rua Garrett 73,  opened in 1732.
Actually this area was rebuilt after that a big fire destroyed it in 1988. 
Now this is a colored and dynamic area where you can drink something at Cafè A Brasileira, where Pessoa was used to go as many other intellectuals of those times.
If you love Pessoa and good food, turn into Rua Serpa Pinto to reach Largo de São Carlos where Pessoa grew up and where you can find the Teatro Nacional de São Carlos and the first Two stars Michelin restaurant: O Belcanto ( Link ).
If You some extra money, chef Josè Avvillez will delight you with dishes that give new interpretation to traditional portuguese cuisine.
Continuing on Ria Garret, you will be in the heart of Chiado with two beautiful squares called Largo do Chiado and Praça Luís de Camões from where you can enter into a new district:  Santa Caterina.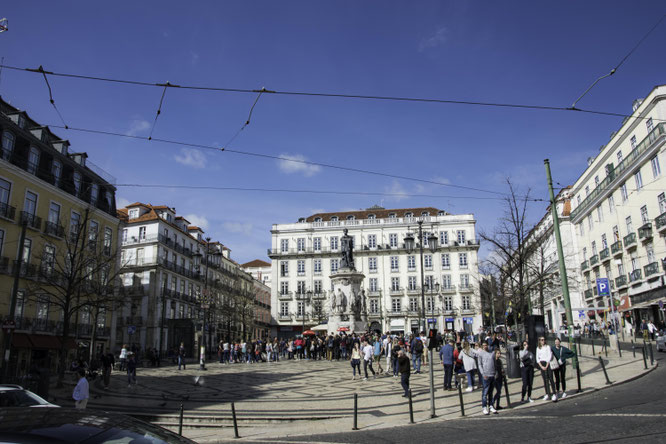 ---
Santa Caterina and the most beautiful view in Lisbon
---
Santa Caterina extends from Praça Luís de Camões passing through Rua Loreto and Calçada do Combro, two rich streets with small souvenir shops, bakeris and antique shops. At every cross if you look at left you will see Tago river among colored roof of the houses. Every corner would deserve a shot but if you want to be traditional, walk up to Rua da Bica de Duarte Belo, where Elevador da Bica is the perfect subject to immortalize while climbing  the steep alley.
Go down this street, really animated in the evening given the numerous pubs, and enjoy the colored buildings decorated with azulejos.
Turn right and return on Rua Saldanha, from where you can easily reach one of the most famous miradouros in all Lisbon, view points which look at the city and which represent a place to relax both for Portuguese people and for tourists.
Miradouro de Santa Caterina has a stunning view on Tago river which throws into the Atlantic ocean after flowing under the Ponte 25 de Abril.
Sit at one of the small tables to enjoy the view before exploring the next neighborhood: Bairro Alto.
---
Itinerary
---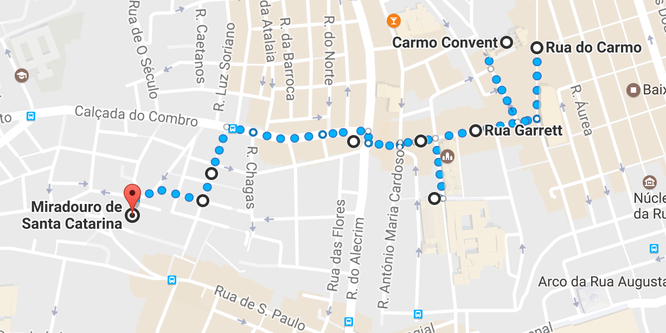 We hope you find this post useful ... if you need more info or if you want to add anything ... just comment!
---
---
Do you want to know more ?
---
---