---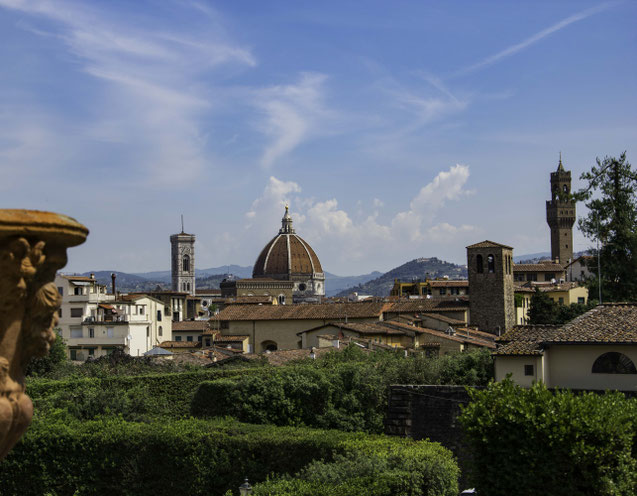 Here we are right back from a our long weekend in Florence, where we celebrated our first wedding anniversary! We enjoyed 4 beautiful days and we are ready to share with you our opinions about this city. 
---
No need of travelbloggers !
---
Honestly it is quite difficult to write this post about Florence since there's no need of any travelblogger, least of all there's so no need of us, to know that Florence is definitely worth a visit! It is quite useless writing a post in which we tell you how amazing the Brunelleschi Dome is, or how romantic a sunset from Piazzale Michelangelo can be, or how wonderful the Michelangelo's David is ... you can just see our pictures, or open a book, or just google the word "Firenze" ...
---
---
So many tourists !
---
A part from its beauty,  the thing that struck us was the incredibile amount of tourists and foreigners in the city! It was impressing, so many that museum clerks, waiters and our hotel receptionists approached us speaking english and were surprised that we answered in Italian ... On the one hand this thing is truly positive and we liked it because is the sign of lively, open-minded and dynamic city in which you can hang out without at any hour without any problem and it is a sing of city capable of attracting people from all over the world. 
On the other hand, we are afraid that the city center could become a mere great attraction without its own soul. A part from the Santa Croce neighborhood where we saw the local market, in the other parts of the center we heard the beautiful Tuscan accent less than 20 times and most of the times thanks to waiters ... We know that we are nitpicking but we think that the difference between a wonderful open-air museum and a city to fall in love with lays in the ability of place to express its soul and traditions.
But since it was out first time in Florence, surely we weren't able and we hadn't enough time to discover the more genuine part of this amazing city ... a good reason to visit Florence again!
---
What a ... ceiling!
---
Without a doubt Florence is famous for the paintings and the sculptures of its great museums, for the beauty of Ponte Vecchi, Piazza della Signoria and Piazza del Duomo, for the majesty of its cathedrals ... but do you know what we found really amazing? The ceilings of its buildings! They're amazing, so well decorated that in the Uffizi Gallery sometimes they're better then artworks exposed in the museum. Try Palazzo Pitti ... you will visit it looking up at its incredibile ceilings, with frescos and golden decorations. When it comes to churches the situation is not different. The frescos of Santa Maria del Fiore dome will amaze you as the ones in San Lorenzo dome and what about the fantastic golden mosaics of the Baptistery! Be prepared to spend lot of time with your looking up at... the ceilings!  
---
---
A Card that works
---
We are glad to tell you that in our opinion the Firenze Card, that we will explain in another post, truly works! It is very useful, making you visit many museums saving lot of time and some money!
---
The great beauty
---
In the end, Florence without a doubt objectively amazing, because Piazza del Duomo, Piazza della Signoria, the sunset seen in Piazzale Michelangelo, the Botticelli's Primavera, the XVI century palaces or the Brunelleschi Dome will surely move your heart ... and when it comes to food ... well, you're in one of the best places in the world where you can find tasty meat, traditional dishes and high quality red wine, a real delight to the palate!
Having said that, objective beauty usually is not enough to make you fall in love with a city ... even if seeing images like these, Florence can be easily considered an exception to this rule!
We hope you enjoyed this post and you found it useful... if you have more questions or if you want to add more... leave a comment!
---